Trust Classic Breakfast Sugar
Trust Superfine Sugar is a free-flowing fine white sugar with little magic crystals that are small and perfectly formed. Now make your birthdays, kitty parties, festivals and in fact every morning delightful as this sugar is an ideal sweetener for cold beverages, cereals, juices, dairy desserts, bakery snacks, cakes, cookies, fruits and salad dressings. It dissolves quickly and effortlessly and each bite leaves you drooling in anticipation for the next one.
Features
Superfine sugar dissolves instantly
Ideal sweetener for cold beverages, breakfast cereals, juices, dairy desserts, milk and puddings, bakery snackes, cakes, cookies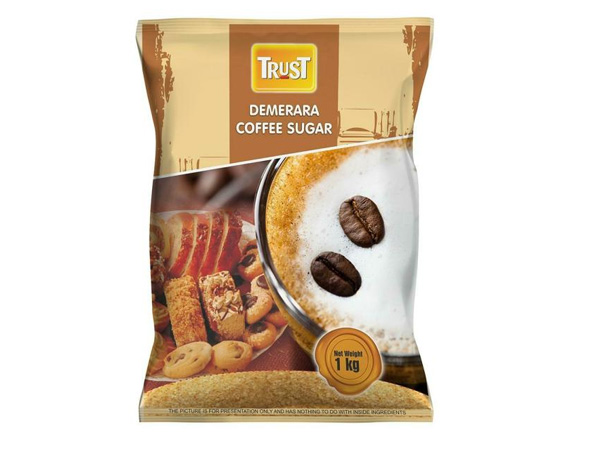 Trust Demerara Coffee Sugar
Sunehra Demerara Coffee sugar is the perfect complement to your homemade coffee. It enhances the coffee flavour while adding sweetness. Demerara Coffee Sugar is also versatile and can be paired with any dessert you create, from cakes, custards, kheer and anything else your inner chef wants to create. While it is 100% vegetarian, organically produced and hygienically packed, we do our best to bring to you the best of sugar from our various fields around the country.
Features
Enhances the flavour of coffee, desserts, ice cream and ginger bread.
Serves as a superb crunchy topping for confectionery, muesli and fresh fruits, glazing for meats and a key input for mocktails.
Trust Classic Icing Sugar
Baking in home is now a tradition and we're here to help u make it perfect for you and your loved ones. Trust icing sugar is perfect for preparing rich and smooth icings. It's lump free and dissolves instantly that is ideal for preparing flawless desserts, pastries and cakes and even decorate them! Make your home-baked products look delightfully rich with Trust Icing Sugar.
Features
100% pure and clean sugar
Blends smoothly, melts quickly and dissolves instantly
Ideal for icing, fondues, whipped creams, fillings, frostings, glazes.
Trust Classic Sugar Cubes
Looking for a Healthy and Luxurious way to sweeten your cup of Tea or Coffee ? We're here with our Trust Classic White Sugar Cubes to help you make a delicious cup of tea or coffee, and also a variety of drinks including cocktails! Its hygienic processing and non messy serving format makes it a unique sugar product which dissolves super quickly. Flavour the white sugar cubes for different occasions and wait for all the ooh's and aah's.
Features
Sparkling white sulphurless sugar cubes
Dissolves instantly
Hygienically packed
Conforms to European standards (< 50 I.U)
100% vegetarian
Trust Classic White Sugar Cubes is an Ideal sweetener for Cold beverages, breakfast cereals and juices, Dairy desserts, milk & puddings, Bakery snacks, cakes & cooking, Crispiness in dry mixes, Sweetmeat preparations, Fruit & Salad dressing
Trust Classic Sugar Sachets
Make your life easier with Trust Classic Sugar Sachets which contain superfine sulphurless sugar that dissolves instantly with no aftertaste. It is suitable for all kinds of food and beverages and is 100% hygienic. It's portion sugar is ideal for cafes/ offices/ airlines/ canteens and definitely a must while you're travelling.
Features
Superfine sugar, dissolves instantly
Hygienically packed
Conforms to European standards (< 50 I.U)
100% vegetarian